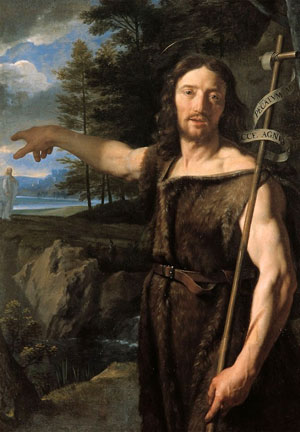 De Martinidienst van aanstaande zondag 6 juni is weer een Morgengebed met de Dutch Choral Singers en voorganger Sam Van Leer. De liturgie volgt de structuur van de Morning Prayer uit de Anglicaanse traditie; de taal is gedeeltelijk Nederlands (in elk geval de Bijbellezingen en de overweging) en gedeeltelijk Engels. Centraal staat het personage van Johannes de Doper, die van zichzelf getuigt niet de Messias te zijn maar voor de Messias uit gezonden te zijn. Verwijzend naar Jezus, die net als Johannes bezig is het reinigingsritueel van de doop te verrichten, zegt Johannes: "Hij moet groter worden en ik kleiner".
Naast voorganger Sam Van Leer en een afvaardiging van vier koorleden van de Dutch Choral Singers onder leiding van Henk de Vries, zal medewerking aan de viering worden verleend door organist Eeuwe Zijlstra.
Aanmeldprocedure: wil je de viering meemaken, meld je dan uiterlijk zaterdagmiddag om 12:00 uur aan via het registratieformulier. De link staat ook onderaan op de pagina met corona-huisregels.
► Download hier alvast de liturgie.
► Deze viering is, ook voor degenen die niet aanwezig konden zijn, op zondag 6 juni 2021 vanaf 11:30 uur live uitgezonden via het Youtube-kanaal Martinidiensten. Terugkijken van de livestream kan via deze link.
Collecte: Allen die deze viering online meekijken (via de livestream of achteraf), worden van harte uitgenodigd bij te dragen aan de collecte. Dat kan door een bedrag over te maken op rekeningnummer NL27 RABO 0136784798 t.n.v. Stichting GSp, onder vermelding van "instandhouding Martinidiensten". Of op hetzelfde rekeningnummer, onder vermelding van "diaconale collecte: Ziekenhuis in Malawi". Wil je aan beide collectes bijdragen, doe dat dan bij voorkeur met twee aparte overboekingen, elk met de juiste betalingsomschrijving. Aanwezigen in de kerk hebben de mogelijkheid contant bijdragen aan de collecte, maar als je liever per bankoverschrijving bijdraagt dan kan dat uiteraard ook. Bedankt voor je gift! Meer over giften en fiscale aftrekbaarheid, zie de giftenpagina.