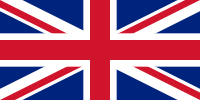 Earlier this year we have taken the initiative to organise a so-called Morning Prayer in the Martini Church in Groningen on a regular basis, usually on the third Sunday of the month at 11:30 am. During the hour of this service, we try to bring to life some of the rich choral tradition from the Anglican church here in Groningen, accompanied by music played on the world famous Martini organ. This way we hope you will have a pleasant time with us, whether you're a local resident, a regular visitor of the Martini services, or a guest in our town from abroad.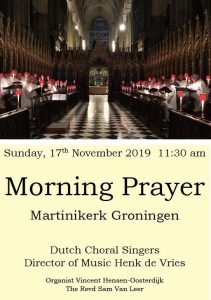 Next Sunday, on November 17th, this type of Morning Prayer will be celebrated for the third time already in Groningen. Among other works, the Te Deum and Jubilate in C by Charles Villiers Stanford and "O for a closer walk with God" – also by Stanford – are listed on the programme. There will also be several hymns that everyone can sing along.
Presiding: the Reverend Sam Van Leer. Choir: Dutch Choral Singers. Choir Master: Henk de Vries. Organist: Vincent Hensen-Oosterdijk.
► The order of service can be downloaded here.

Een paar maanden geleden zijn we gestart met het organiseren van de zogenoemde Morning Prayers in de Groninger Martinikerk, op de derde zondag van de maand om 11:30 uur. In ongeveer een uur proberen we, begeleid door orgelmuziek gespeeld op het wereldberoemde Martiniorgel, iets van de beleving uit de rijke Engelse koortraditie ook in Groningen tot leven te brengen. Daarmee hopen we jullie, zowel Groningers en regelmatige bezoekers van de Martinidiensten als buitenlandse gasten in onze stad, een aangenaam uurtje te bezorgen.
Komende zondag, 17 november, vieren we alweer voor de derde keer de Morning Prayer op deze manier. Op het programma staan onder meer het Te Deum en Jubilate in C van Charles Villiers Stanford en "O for a closer walk with God", eveneens van Stanford. Daarnaast zijn er hymns die iedereen kan meezingen.
Voorganger is Sam Van Leer. Het koor: Dutch Choral Singers staat onder leiding van dirigent Henk de Vries. Organist is Vincent Hensen-Oosterdijk.